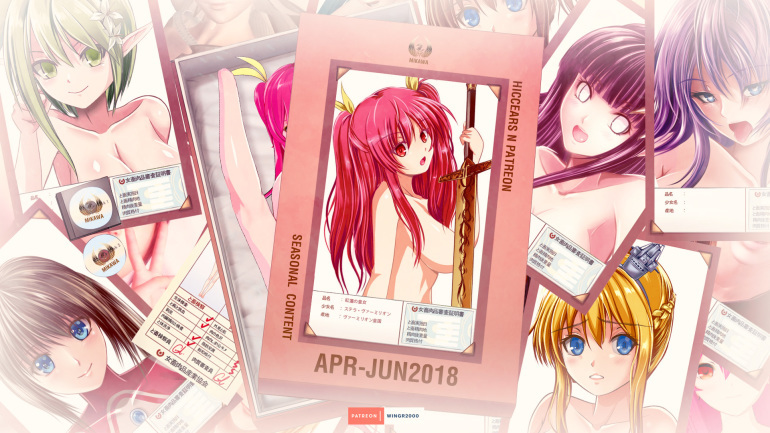 [WingR2000 OCT 2018 content | 18年10月号]
https://www.hiccears.com/gallery.php?gid=5778
[WingR2000 Seasonal pack Apr - Jun 2018 | 18年4-6月号]
Part A https://www.hiccears.com/gallery.php?gid=5780
Part B https://www.hiccears.com/gallery.php?gid=5794
Seasonal pack banner has a very short story. I think this season most interesting content is "MIKAWA" (Girl Meat Association). So I use that season picture to creat more about Girl Meat.
For Oct content. This month is fully WIP content. Full finish work only 4. And 2 of them are published already.
- Hundred : for ending celebration
- Hallween : for Halloween
Another 2 works are OC. Not really attractive for buying...
So... XNALARA pack again.
I want to make set for Fiona when she come out. Now it finally done.
Wang Yuanji set is done when her model released. I just finetune whole set when making this pack.
FEH Celica. :D
That one is trace veiled616's work.
I'm not really well condition during October. Maybe I overworking too much at September.
And there are some annoying clients making troubles during October.
本回的季刊最重點的內容是MIKAWA / 女畜肉品產業協会,這個主題我就玩多一點了。季刊的BANNER都是圍繞這個來寫了一個簡短的故事,用當季的物資來作女畜肉吧。
10月份內容滿滿的WIP,完成品只有4枚,而其他2枚更是已公開。
- 百武裝戰記 : 為了完結記念
- 萬聖節 : 為了萬聖節
其餘2個都是OC,實在吸引力有限...
所以短時間內增加內容,只有用XNALARA了
費歐娜原定是她登場就弄的了,現在總算完成
王元姬的實際是模型釋出的時間點差不多完成,作了後期調整就包在這個刊裡
FEH是向veiled616致敬用。Celica真香!
實際上10月狀況很不好,大慨是9月沖太急,整個10月都沒有狀態。10月還來了幾個奧客……
Difference between Free and Subscription
订阅内容和免费版分别说明
https://www.hiccears.com/artist-profile.php?apid=24979
[Content]
☠ = R-18G
☺ = Safe for all 一般向け
★ = Exclusive content Varaiants
$ = Free Post
☠ Claire Harvey n Emilia Hermit (Hundred) $★
Queen's Blade Halloween - Airi & Menace ★
Adamante & Nayhelime (OC)
3P Group Play (OC)
[WIP]
New World Dance 殺せ松田粉バナナ $
Stop your futile resistance! If you do, I'll kill you painessly! (Ultimate Antihero)
Haruna n Hinagiku ★
Hanjuku Hero (P4)
Evelynn n Zyra (LoL)
Hinata (Naruto)
10000 Followers celebration Fire Hime
☠ Ultra Reina Sketches
☠ Sansa and Arya execution 03 - Ayra part
[XNALARA] ★
☠ Owner sama, please take my head (DOA)
☠ Wang Yuanji execution (DW9)
☠ Bolt Tower (Celica) (FEH)*
trace pose > illust_id=64606492
Inuyasha prviate commission not included
[Credit]
Models
www.deviantart.com/cunihinx
www.deviantart.com/doa-nephilim
www.deviantart.com/shuubaru
www.deviantart.com/zeushk
www.deviantart.com/xelandis
www.deviantart.com/ambros489
BG n items
www.deviantart.com/diegoforfun
www.deviantart.com/lezisell
www.deviantart.com/tokami-fuko
www.deviantart.com/bstylez
www.deviantart.com/zeushk
---
★★ If you enjoy my work, supporting me on Patreon :) ★★
https://www.patreon.com/wingr2000?ty=h
(R-18 / NSFW)